PlanProphet is a revolutionary system poised to elevate your printing shop to new heights of efficiency and success. Our cutting-edge software empowers you with a multitude of advantages. Imagine a solution that seamlessly stores, meticulously organizes, and intelligently analyzes all pertinent contacts and customer information within your company.
PlanProphet goes beyond the ordinary and automates essential functions that drive your business forward. From sales to marketing to customer service, the system thrives on capturing and leveraging key relationship data from leads, prospects, and cherished customers. With PlanProphet, you're not just streamlining operations, you're fostering lasting relationships and the growth your print shop deserves.
What our clients say
On this occasion, we were privileged to gather insights from Jim Caughorn, the Owner and President of Graphic Creations located in Knoxville, TN. He kindly answered the questions about the processes in his print shop and the integration of the PlanProphet system into his company.
About Graphic Creations
Graphic Creations was founded in 1987 with the goal of providing personalized design, copying and printing services to the University of Tennessee and surrounding communities. Over time, the company's customer-focused approach and the talents of its employees have allowed it to evolve into a comprehensive Brand Management Team that provides practical solutions for branding, marketing and printing needs. Today, the company is a testament to innovation, with unique production systems, in-house training and advanced equipment all contributing to its competitiveness in the Knoxville printing market. These systems not only improve quality and reduce costs, but also reflect their commitment to continuous improvement.
Graphic Creations is considered the best sign company in Knoxville and has maintained its position as the foremost printing establishment in Knoxville and Tennessee for more than three decades. Since 2016, the company has consistently secured a coveted spot on Printing News' esteemed Top 100 Quick and Small Commercial Printing List, and their accolades go even further with four Premier Print Awards from the Printing Industries of America. A true specialist in their domain, Graphic Creations excels in crafting tailor-made banners, business cards, vehicle wraps, promotional materials and a full range of tools essential for the promotion, marketing and growth of businesses.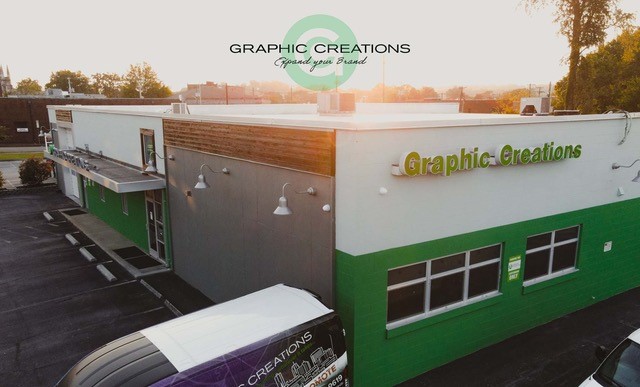 Could you provide concrete instances of streamlined tasks or processes resulting from PlanProphet's implementation?
"This is such a tough question because it is hard to remember without PlanProphet! Our list is lengthy because, about the time I started with PlanProphet, I had just hired a Director of Marketing to help with our brand and marketing efforts. So, our email campaigns and our customer engagement went from zero to 100 mph in a very short period. Haley has set up multiple drip campaigns and customer interactions. We communicate with clients that haven't bought in 6 months, do new customer surveys, and push Google Reviews which is currently 204 5-Star reviews. Before PlanProphet, we were less than 50."
According to Jim's insights, a major improvement lies in transmitting quotes and proofs via PlanProphet. This has led to better insight into the customer journey, ensuring that proofs are acknowledged and facilitating effective follow-up in the event of a non-response. In the past, collaboration with the design team could stall if clients were unresponsive, but now, proof approval turnaround time has been reduced by 30% or more. Crucially, the system prevents client communication from getting lost in emails by keeping a consolidated record in the client profile and promoting transparency and validation.
Has the implementation of our automation software resulted in cost savings or error reductions? If yes, could you furnish some specific examples?
"By integrating proof approval into the system, we have better accuracy with clients approving and reviewing proofs. We continue to tweak our message on the client being aware of their responsibility and liability if they don't proofread carefully. I don't know if I can directly tie it to cost savings, but it wasn't my intent with the investment. It was about creating scale in my company and allowing my people to handle their workload and be able to manage the growth without additional headcount. So, with that scale and efficiency, I guess the savings would be more work accomplished with additional overhead."
How did you manage the integration of our automation software into your print shop while ensuring a smooth transition for your staff through support and guidance?
Jim characterizes the adoption process as a mix of challenges and achievements that ultimately led to success. While the senior sales staff encountered some difficulties in adapting to the new system, the underlying objective was to liberate them from excessive computer involvement and allow for increased sales activity, which was indeed achieved.
Are there any PlanProphet modules that you haven't yet utilized, but are considering implementing? What are your upcoming plans and steps for leveraging the platform further?
"As far as I know, the only feature we aren't using is the Shipping Module and we just completed the demo and started the free trial with that. We are very excited about the progress we have made with integrating the Asana Project Management Module."
How has the partnership between PlanProphet and Graphic Creations influenced shared values and goals, and which collaborative aspects have notably driven impactful outcomes?
Jim expressed that the connection with PlanProphet is like family and collaborating with a company that shares the same core values and priorities is truly rewarding. He appreciates the time spent with Lemay, who arrived as an individual but was supported by an exceptional team and collective effort. Jim finds the outlined bullet points to be an excellent encapsulation of the discussions, considerations and subsequent actionable steps that greatly benefited Graphic Creations.
"Thanks for taking the time to care and engage in our vision and for helping us get there in ways we may not have been able to uncover without your help. This is beyond a software thing; this is a people and passion thing. Thank you very much and you can be sure that Graphic Creations will be a raving fan, promoter, and Champion for PlanProphet. What a great experience to have an opportunity to truly solidify two company cultures into one."
Ready to see our product in action? Secure your personalized demo now!