PlanProphet Champion Summit 2023 is an annual two-day workshop that will take place on January 19th and 20th in Miami, Florida, on the grounds of Sonesta Miami Airport. It is a great opportunity to gain first-hand insights into the uses and benefits of PlanProphet CRM and Marketing Automation Engine.
PlanProphet staff will be joined by a panel of printing and CRM industry experts who will share their knowledge of the world of automation, Customer Relationship Management, and print industry efficiency.
Who will be able to participate?
All Champions, Owners, Managers, and Customer Service Representatives, Designers and Pre-Press are invited to the congress to align their leadership skills, develop solutions to identified problems, propose new strategies and improve collaboration in the printing industry.
What is so great about this event?
This summit is a place to bring different perspectives about the PlanProphet CRM and marketing automation engine and talk about the significant changes it can offer to improve your organization. Several topics will be covered in the scheduled sessions, and here is an overview of our agenda:
Details of our program
It is with great pleasure that we present the agenda of our event. Our experts will not only share their interests and expertise with PlanProphet, but also give you the opportunity to actively participate in the discussion. Collaborate and learn from others in the printing industry while meeting other people in the industry.
Take advantage of this exclusive offer!
If you would like to be part of a solid and ever-learning community, you can sign up now. Register by October 1, 2022 to take advantage of our special early offer of $125. Center's Champions can attend at no additional cost, and if you are not a Champion, we will send you an invoice.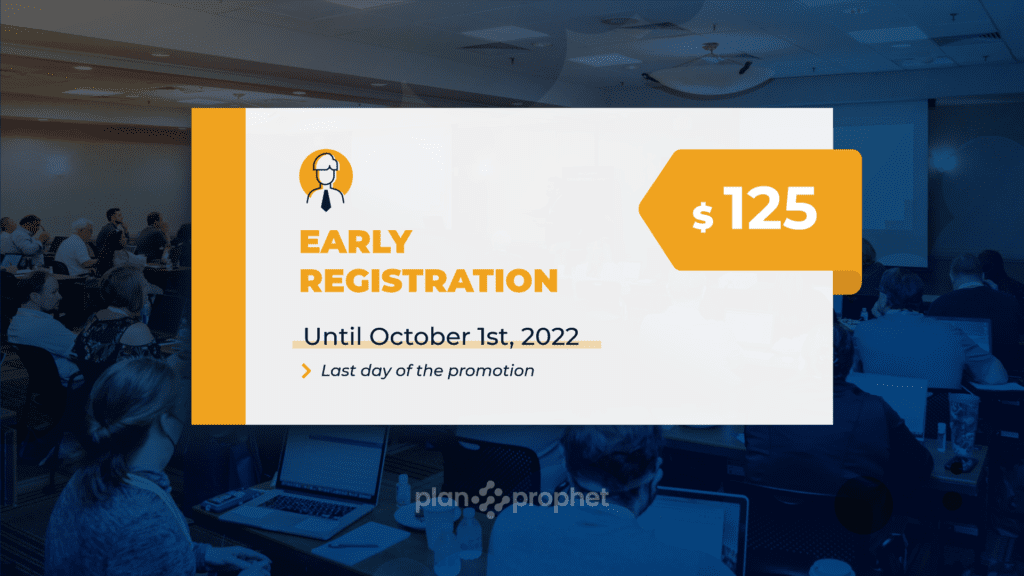 Register Now
Join our Summit and do not miss this exciting and groundbreaking event!